Plague
Plague in Madagascar
This webpage is for INTERNAL USE - DO NOT RELEASE THE URL. You can use the information in your discussion with members.
Updated: 28 November 2017
Brief overview
The outbreak of pneumonic plague in Madagascar has been contained. Most cases were in Antananarivo Renivohitra and Toamasina.
Seasonal bubonic cases are expected to continue in rural areas.
The Madagascar National Office of Risk and Disaster Management (Le Bureau National de Gestion des Risques et Catastrophes Madagascar) has announced that they will no longer be producing daily reports, but will remain on standby. Previous daily reports are available here.
WHO assessment 27 November: "No new cases of confirmed bubonic plague have been notified after 8 November 2017 and no new cases of confirmed pneumonic have been notified since 14 November 2017. All contacts finished follow up on 19 November 2017. However, plague in Madagascar is seasonal and WHO expects additional reports of cases. It is therefore important for the Ministry of Health, WHO, and partners to sustain prevention and response activities until April 2018. A longer term strategy will be needed for plague prevention, preparedness, and response.
Based on the current epidemiology and response capacity, WHO estimates the risk of plague at the national level is moderate. The risk at the regional and global levels is low.
Case numbers
WHO: As of 22 November, 2,348 cases of plague (pneumonic and bubonic types) have been reported, including 202 deaths. The case fatality rate was 8.6%. In total there were 1,791 pneumonic, 341 bubonic and 215 septicaemic cases. [Source: WHO Disease Outbreak News 27 November]
Travellers infected: Two people who travelled to Madagascar for an international basketball competition (one from Seychelles, one from South Africa).
French national who died on 21 October in Tamatave is being investigated for plague. [Source: French Embassy in Madagascar, 24 October 2017] Results not yet available as of 27 November, however non-public information says it was not a plague fatality.
Affected areas
The district of Antananarivo Renivohitra was the most affected, with about 40% of cases, followed by Toamasina. "Since the beginning of the outbreak, cases of pneumonic and bubonic plague have been detected in 55 out of 114 districts (48%), including non-endemic areas and major cities. Analamanga Region has been the most affected, with 68% of the cumulative reported cases." [Source: WHO Disease Outbreak News 27 November]
Healthcare
In total, 81 healthcare workers were infected, but there were no fatalities among them. [Source: WHO Disease Outbreak News 27 November]
Some medical facilities were overwhelmed.
Nine plague treatment centres were established - 6 in Antananarivo. Supported by IFRC, MSF, MdM, UNICEF and WHO.
Public Health Measures
Contact tracing - All 7,289 contacts have completed follow-up on 19 November. [Source: WHO Disease Outbreak News 27 November]
Public gatherings - the ban on sporting and cultural events was lifted on 13 November [Source: Le Bureau National de Gestion des Risques et Catastrophes Madagascar 13 Nov]. Schools re-opened as of 6 November.
Exit screening - Thermal screening is being implemented for travellers leaving the country. Suspected cases may be quarantined and tested.
Other screening - News sources indicate there is temperature screening for people boarding buses, taking taxis, and entering banks and schools.
Seychelles
Has implemented measures affecting travellers arriving from Madagascar. Anyone who has been to Madagascar in the previous 7 days is placed in mandatory quarantine for 7 days at a dedicated isolation centre in Perseverance.
The suspected case in Seychelles has tested negative for plague. [Source: WHO 18 October 2017]
POSSIBLE QUERIES ON THE SITUATION
The queries are likely to be of two types.
I. They can be either related to the situation pertaining to outbreak
II. Information regarding strategic advice, planning, and training requirement
l. Queries related to the outbreak
The Assistance Centres are likely to receive more queries on these topics from corporate members. Available resources for situational information are as below:
1. Medical Alert on website
2. Disease and Prevention Article
3. Information Sheet and Posters
4. Power Point presentation
5. Frequently Asked Questions
Refer to Medical Alert for latest information
The situation is rapidly evolving, and information is frequently changing or being updated. International SOS has a live medical alert which contains latest information about
• Latest situation
• Case numbers
• Exported cases
• Travel advice
• Public health restrictions/bans
• Travel disruption
To address queries on the above, please go through the latest version of the medical alert available online.
HOW TO ACCESS TO THE MEDICAL ALERT
1. Medical Alert on the website
Use the internal membership number 00AMMS000001 to login (do not disclose this membership number) at www.internationalsos.com

It leads to the home page. From the dropdown, select Madagascar.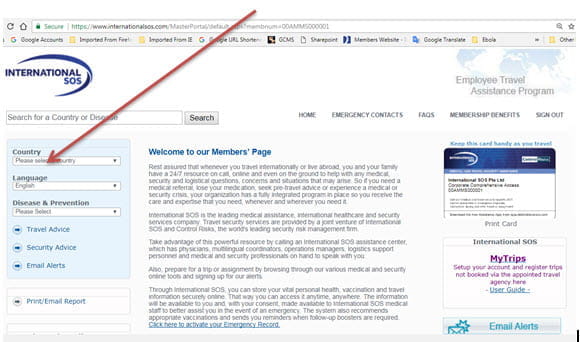 The alert appears on the landing page of Madagascar.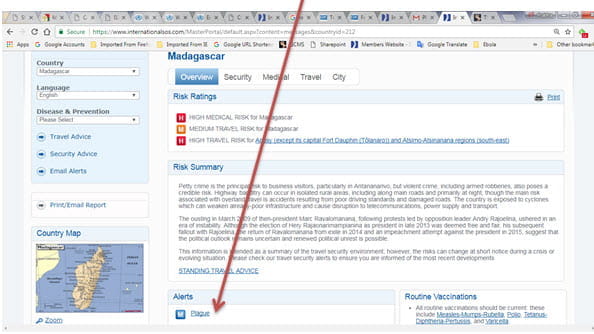 The alert is also available on the Assistance App on your smartphone or mobile device.
The Disease and Prevention Article provides lay information about the disease, geographic presence, different forms of illnesses, transmission, symptoms, preventive methods and risk to travellers.
Access the Plague article from the dropdown.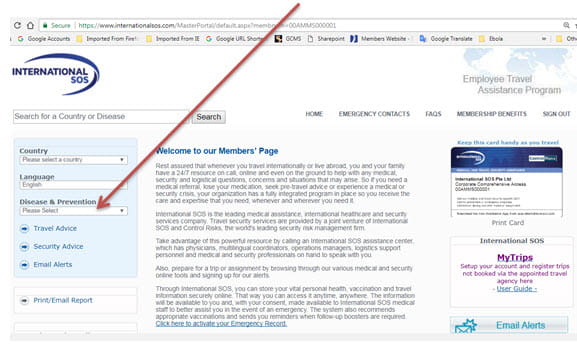 Plague Awareness Poster A3 PDF
Plague Health Information PDF English
Plague Health Information PDF French
Who can this information be shared with?
This can be shared with all members who have corporate membership as well as Medical Services clients.
This power point is to be used by International SOS medical staff for presentation to members, and can be modified to suit the presenter and the audience. It should NOT be distributed to attendees. Attendees can be given the Plague Health Information sheets above.
ISOS_Plague Madagascar_v2_19Oct2017
Situation update 21 October 2017 (slide with updated case numbers)
If your query is not addressed by the information below, please escalate to your Regional Medical Director and the Medical Information and Analysis Team (5MInAteam@internationalsos.com )
Q. We have people scheduled to travel to Madagascar, should we go ahead or cancel the trip?
A. Travel to Madagascar can proceed, however certain precuations to prevent plague should continue: avoid people who are sick, especially those with a cough or respiratory illness. Prevent bubonic plague by observing strict personal hygiene measures, avoiding sick or dead animals, avoiding rodent nests or burrows, taking steps to avoid flea bites, use an effective insect repellent, when outdoors - wear clothing that covers most of your body (long sleeves, long pants, socks).
Q. Should we buy doxycycline for future use?
A. Doxycycline is a prescription antibiotic, used to treat and prevent plague.
It is reasonable to consider carrying a course which has been prescribed for you, to be used when advised by a doctor. Self-medication is strongly discouraged.
Q. I'm taking doxycycline to prevent malaria. Will it prevent plague?
A. No. The dose to prevent malaria prophylaxis is 100 mg per day, half of the dose used to prevent plague.
Q. I may have been bitten by flea/handled dead or sick animals. What should I do?
A. Please seek medical advice immediately. You may require monitoring or medication to prevent plague.
Q. An acquaintance had visited Madagascar last year and he has developed cough? Could he have plague?
A. No. Plague usually develops within 2-6 days of exposure.
Q. I am in Madagascar, which hospitals are safe to go to?
A. Healthcare is limited in Madagascar. If you require medical assistance, International SOS will direct you to a suitable health care provider.
Q. I have a chronic medical condition (e.g. diabetes, asthma). Am I at an increased risk of catching plague?
A. Anyone who is exposed to plague can be infected. Healthcare workers are at increased risk as they are in contact with sick people.
Q. Is it safe to eat and drink food from vendors since plague does not spread via food?
A. Plague does not spread via food or water. Properly cooked food, from well-known restaurants, is safe to eat.
Q. Is there a vaccine?
A. There is a vaccine against plague however it is not effective against airborne transmission of the illness and it is not commercially available.
II. Information regarding strategic advice, planning, and training requirement
The Medical Services clients with staffing, remote site set-up or clinic are likely to receive these queries. These queries will fall under the purview of consulting services, managed by Christophe Souletie, Group General Manager, Consulting Operations.