Scientific Update
International SOS Weekly Scientific Update
Focussing on immunity and vaccine development
Produced by Dr Doug Quarry
15 January 2021
1. Pfizer vaccine reduces coronavirus infection among entire Israeli population
"Israeli research shows that the coronavirus vaccine made by Pfizer not only protects those vaccinated from contracting COVID-19, it also helps to prevent immune people from spreading the disease to others," YnetNews reports.
"Research by Clalit Health Fund shows that among 200,000 people aged 60 and over, both inoculated and not, there was a 33% reduction in the spread of the virus 14 days after the first of the two required doses was administered."
Further information
"The question of whether the vaccine would help prevent those who had received it from still being carriers was a key issue as the inoculations were rolled out across the world.
"Clinical research conducted by Israel's largest health fund Clalit showed a significant drop in infections among 200,000 people aged 60 and over two weeks after the first vaccinations were given. Not all of the 200,000 people involved in the research had received the vaccination.
"Prof. Ran Balicer, Head of Innovation at Clalit, says that there is no visible effect on general infection rates for days 5 to 12 after the first dose of the two-stage vaccination is administered.
"According to the data, there was a slight fall in morbidity on day 13, but by day 14 there was a 33% drop in the spread of the disease between those who were vaccinated and those who were not."
International SOS Comment: This is the first information suggesting that vaccination also reduces SARS-CoV-2 transmission.
2. J&J COVID-19 SINGLE DOSE vaccine available in Europe in April & US in March
"Johnson & Johnson (J&J) could deliver the first doses of its COVID-19 vaccine to Europe in April…after a top lawmaker said the [the company] was likely to seek EU regulatory approval in February," reports Reuters. "J&J Chief Scientific Officer Dr Paul Stoffels told Reuters that J&J …was on track for a US rollout in March."
The J&J vaccine stores spike protein DNA in Adenovirus 26. DNA is not as fragile as RNA and the adenovirus's tough protein coat helps protect the genetic material inside. As a result, the Johnson & Johnson vaccine can be refrigerated for up to three months at 2–8°C, says the New York Times.
Dr Stoffels said in an interview on 12 January that J&J expects to meet its stated target of delivering one billion doses by the end of this year….
3. The virus will be around "forever" – but eventually no worse than the common cold
CNBC reports that during a panel discussion at the JP Morgan Healthcare Conference, the CEO of Moderna, and other public health and infectious disease experts, said that there is a high likelihood that COVID-19 will become an endemic disease. This means that COVID-19 will become present in communities at all times, though likely at lower levels than it is now.
Following the same logic, the abstract of a recent paper in Science states that: "Our analysis of immunological and epidemiological data on endemic human coronaviruses (HCoVs) shows that infection-blocking immunity wanes rapidly, but disease-reducing immunity is long-lived.
"Our model, incorporating these components of immunity, recapitulates both the current severity of CoV-2 and the benign nature of HCoVs, suggesting that once the endemic phase is reached and primary exposure is in childhood, CoV-2 may be no more virulent than the common cold."
4. Instagram influencers are a vaccine priority in Indonesia
"Indonesia has rolled out a mass free COVID-19 vaccination programme in an attempt to stop the spread of the virus and get its economy going again," the BBC reports.
"But the country is taking a markedly different approach to others. Instead of vaccinating elderly people in the first phase, after frontline workers, it will target younger working people aged 18 to 59."
"Among the first in the queue for coronavirus vaccines in Indonesia has been one conspicuous group - social media influencers," reports Reuters. "Indonesians are among the top global users of social media platforms such as Facebook, Twitter and Instagram."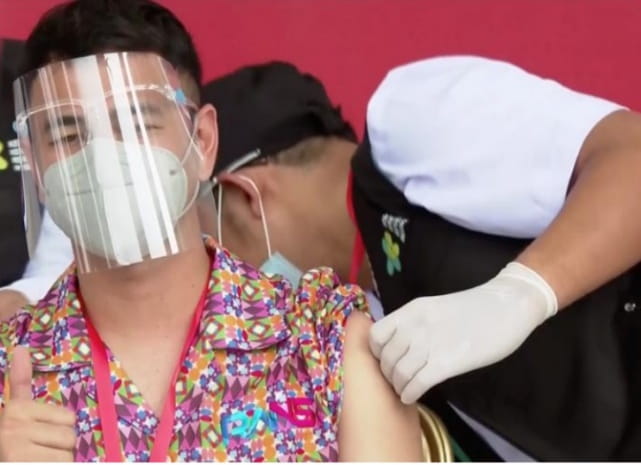 Photo: Reuters
Senior Health ministry official, Siti Nadia Tarmizi, said the decision to include influencers alongside almost 1.5 million healthcare workers in the first round of inoculations was a deliberate government communications strategy.
"Raffi Ahmad boasts almost 50 million followers on Instagram. 'Alhamdulillah [Praise be to God] a vaccine ... Don't be afraid of vaccines,' the 33-year-old celebrity wrote under a video of him receiving the shot, next to a heart emoji and another of Indonesia's red and white flag."
5. Past COVID-19 infection protective for at least five months
A Public Health England (PHE) study of more than 20,000 healthcare workers found that a previous COVID-19 infection provides 94% protection against symptomatic reinfection, and 75% protection against asymptomatic reinfection, for at least 20 weeks, research reported by the Guardian suggests.
6. Sinovac releases vaccine Brazil study results
GlobalTimes reports: "Sinovac's 'CoronaVac' COVID-19 vaccine is 100% effective in preventing severe and moderate infections, 77.96% effective in preventing mild cases, and has an overall efficacy of 50.4% in Brazil's final-stage trials.
"Experts say the result is good enough considering almost all participants in Brazil are high-risk medical workers, and the 77.96% efficacy for mild-case protection means the vaccine can reduce 78% of people from needing hospitalization."
Detailed study data was not provided.
7. Epidemiologists investigating UK variant cluster in Australian quarantine hotel
Six cases of the UK B.1.1.7 variant have been linked back to one or two index case/s at the Grand Chancellor Hotel, in Brisbane, used for SARS-CoV-2 quarantine. The infections included a UK traveller and his partner, a hotel cleaner and her partner and a man and his daughter from Lebanon.
Background
Australia has a very low level of COVID-19 community transmission. All inbound international travellers must spend two weeks in self-paid, government-monitored, hotel-based quarantine. Many SARS-CoV-2 infections have been identified, some with the more transmissible UK strain. The Grand Chancellor Hotel in Brisbane has been used as a quarantine hotel.
More detail
Epidemiologists are studying the Grand Chancellor Hotel cluster to see how the infection spread to people quarantined in separate hotel rooms; all were on the seventh floor. Among other routes of transmission, the air-conditioning and possible spread through the toilet system are being examined. The hotel has been closed; all staff and previous "guests" are being tested and/or quarantined.
SARS and Amoy Gardens
SARS spread though sanitary systems in the Amoy Gardens housing complex during the first phase of SARS in Hong Kong. Because most households were in the habit of cleaning the bathroom floor by mopping rather than flushing with water, the U-traps connected to most floor drains were probably dry and not functioning properly. Read more.
8. Ohio researchers identify new variant strain of COVID-19
Researchers from The Ohio State University have identified a new variant which is probably causing the rapid spread of the virus in Columbus. Their findings have not been published, but said the strain first appeared in late December.
Like the UK B.1.1.7. variant, the Ohio strain seems to spread more easily than the original virus, SARS-CoV-2, but vaccines should still be able to offer protection.
9. Justin Trudeau rules out vaccine passports for Canada
Reuters reports that Canadian Prime Minister, Justin Trudeau, is opposed to a vaccine passport for people who had received vaccinations, saying it was fraught with challenges. The concept is already being developed by Denmark.
"I think the indications that the vast majority of Canadians are looking to be vaccinated will get us to a good place without having to take more extreme measures that could have real divisive impacts on community and country," Mr Trudeau said.
10. Israel Expects to Start Vaccinating Children by March
"Israel may include children over the age of 12 in groups receiving COVID-19 vaccines within the next two months if research shows this is safe, a top health official said on Tuesday," Reuters reports.
"Vaccinating at a world-record pace, Israel says it aims to have administered one or both shots to 5 million of its 9 million citizens, and reopen the economy, by mid-March.
"Elderly Israelis and adults with medical conditions or jobs in critical high-risk sectors have been given priority. But with Israeli officials anticipating more regular vaccine shipments, the eligibility categories have been expanded."
11. Moderna vaccine immunity to last at least a year
Reuters reports that: "Immunity from Moderna COVID-19 vaccine should last at least a year, the company said on 11 January at the J.P. Morgan Healthcare conference.
"The drug-maker said it was confident that the messenger RNA (mRNA) technology it used was well suited to deploy a vaccine based on the new variant of the coronavirus which has emerged in a handful of countries."
Moderna said in December it would run tests to confirm the vaccine's activity against any strain.
12. An mRNA vaccine for multiple sclerosis is now possible/probable
Animal studies (mice) of an mRNA vaccine produced by BioNTech, maker of the Pfizer COVID-19 vaccine, shows great promise for improving symptoms & stopping multiple sclerosis (MS) progression.
Read more in: Science
13 January 2021
US to require negative virus tests from all international passengers arriving by air
The US Centers for Disease Control (CDC) has announced that before boarding their flights, all international passengers flying to the US will first need to show proof of a negative coronavirus test. The new policy comes into effect on 26 January 2021. Previously this process related only to travellers from the UK.
"Testing does not eliminate all risk," Dr Robert R. Redfield, the Director of the Centers for Disease Control and Prevention, said the statement describing the new policy.
"But when combined with a period of staying at home and everyday precautions like wearing masks and social distancing, it can make travel safer, healthier, and more responsible by reducing spread on planes, in airports, and at destinations."
12 January 2021
1. "This is an appalling situation," says England's CMO
"The UK will go through the 'most dangerous time' of the pandemic in the weeks before vaccine rollout has an impact," the BBC reports Prof Chris Whitty, England's Chief Medical Officer (CMO), as warning.
"The next few weeks will be 'the worst of the pandemic for the NHS,' he said.
"Currently, around one in 50 people across the UK is infected and Prof Whitty told BBC Radio 4's Today programme: 'There's a very high chance that if you meet someone unnecessarily, they will have COVID.'
"In a separate interview with BBC One's Breakfast, he said: 'This is everybody's problem. Any single unnecessary contact you have with someone is a potential link in a chain of transmission that will lead to a vulnerable person.'
"He said there were over 30,000 people [in English hospitals alone] with Covid-19 - compared to about 18,000 [in England] at the peak last April.
"He added that 'anybody who is not shocked' by the number of people in hospital 'has not understood this at all'.
"'This is an appalling situation,' he said."
2. Global vaccination status
The statistics relating to percentage of population vaccinated can be misleading unless the total population size is also considered.
Chart 1: Our World in Data: Percentage of population vaccinated
3. Comparison of population, percentage vaccinated and number of people vaccinated
While Israel is the leader with regard to the percentage of its population vaccinated, the US has administered the most vaccine doses; nine million.
Israel

UAE

Bahrain

UK

US

Denmark

Iceland

Italy

Slovenia

Spain

Canada

population

8.6M

9.9M

1.7M

68M

331M

5.8M

0.34M

60.5M

2M

47M

38M

% vaccinated

21.38%

11.80%

5.44%

3.94%

2.72%

2%

1.43%

1.16%

0.99%

0.87%

0.85%

number
vaccinated

1.83M

1.17M

92K

2.7M

9M

116K

4.9K

702K

20K

409K

323K
Table: International SOS
4. Sleeves up NOLA! Fabulous public health messaging from New Orleans
NOLA = New Orleans, Lousianna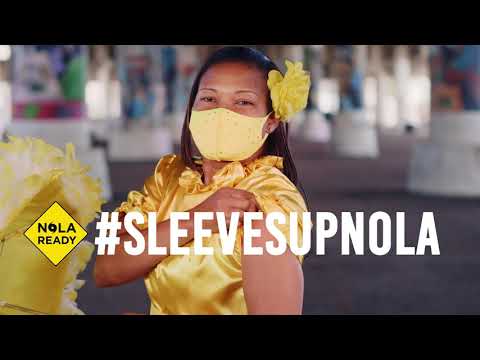 TO PLAY IN FULL SCREEN:
https://www.youtube.com/embed/wSeiZCVclxQ
Please send other examples of COVID-19 vaccination-related public health messaging to me at:
doug.quarry@internationalsos.com
5. Cases rising rapidly in the UK and Ireland
Chart: Our World in Data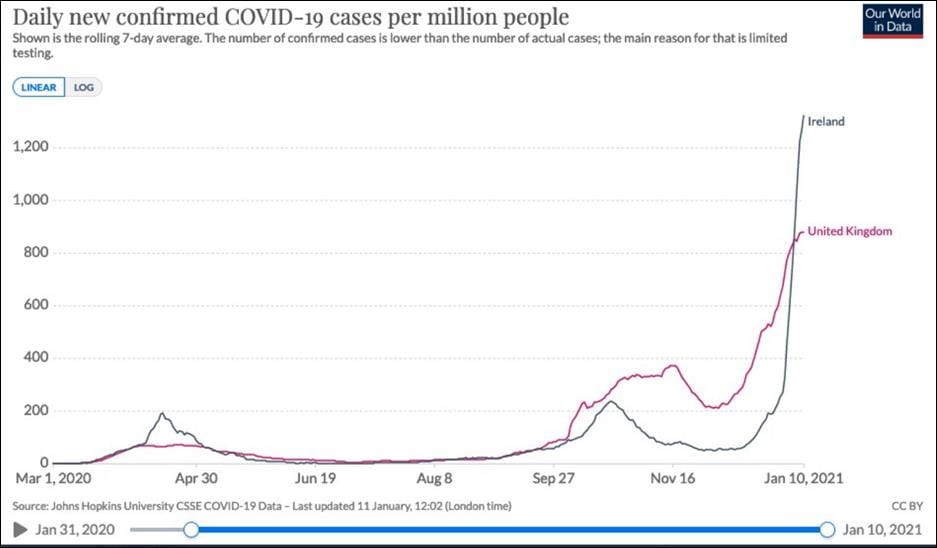 Related Tweet by Dr Tom Frieden**
I've never seen an epi curve like this. The B.1.1.7 variant is spreading like wildfire in the UK and Ireland. If it spreads here (US), it will make an already-bad situation even worse.
Related Tweet by Dr Eric Topol***
It will spread here (in the US). It's just a matter of weeks now. If you review the UK, Ireland trajectory it'll take 6-8 weeks to become dominant here.
Tom Frieden**: Director of CDC, 2009-2017
Eric Topol***: Professor of Molecular Medicine at The Scripps Research Institute, Editor of Medscape
6. South Africa testing vaccines on variant; results within 2 weeks
Reuters reports that South African scientists are testing whether antibody responses are reduced against the local 501Y.V2 variant.
Professor Penny Moore told Reuters the National Institute of Communicable Diseases had received samples from several local vaccine trials, including the AstraZeneca, Pfizer, Johnson & Johnson and Novavax vaccines. Results are expected within two weeks.
7. EU COVID-19 vaccine purchases
Reuters reports that Germany, France, Italy and the Netherlands have, over the last several months, independently reached deals with AstraZeneca for the supply of up to 400 million doses of vaccine.
EU countries not involved in the deal said that that these deals could have triggered a race for vaccines among EU governments. The bloc then began negotiations with Johnson & Johnson and Sanofi, Pfizer CureVac and Moderna.
Deals table: data from Reuters article and International SOS records
| | | | | | |
| --- | --- | --- | --- | --- | --- |
| Bloc | Vaccine | Doses | Price (USD) | Date | Comment |
| EU | Pfizer | 600 million | ? | January 2020 | |
| EU | Sanofi | 300 million | $400 million | September 2020 | No ready till end 2021 |
| EU | AstraZenca | | $414 million | | |
| EU | J&J | 400 million | $432 million | October 2020 | |
| EU | Curevac | 405 million | ? | November 2020 | |
| EU | Moderna | 160 million | ? | November 2020 | |
| EU | Novavax | 200 million | ? | | In discussion |
8. CDC update on COVID-19 vaccine-related anaphylaxis in MMWR
On 6 January, the US Centers for Disease Control (CDC), provided an update on vaccination-related anaphylaxis in the Morbidity and Mortality Weekly Report (MMWR).
Between 14 and 23 December, monitoring by the Vaccine Adverse Event Reporting System (VAERS) detected 21 cases of anaphylaxis after administration of a reported 1,893,360 first doses of the Pfizer-BioNTech COVID-19 vaccine. Most reactions - 71% - occurred within 15 minutes of vaccination.
The anaphylaxis rate is 11.1 cases per million doses OR about 1 case per 90,000 doses.
Vaccination with the Moderna vaccine had not started when the figures were released.
9. BioNTech increases target output for 2021 to 2 billion doses
Reuters reports that BioNTech (vaccine development partner of Pfizer) has increased their delivery target for 2021 to two billion doses of their COVID-19 vaccine, up from 1.3 billion The increased volume relates to new production lines and the ability to extract six doses from each vial, instead of the originally planned five.
10. India about to begin ambitious COVID-19 vaccination drive
India will launch an ambitious coronavirus vaccination drive on 16 December, aiming to reach 300 million people by July, reports CTV News. The vaccine is to be free for the country's population of 1.3 billion.
The first phase will target about 30 million health and other frontline workers, including security forces, and 270 million people over 50 and those at the highest risk from COVID-19.
About 150,000 staff in 700 districts have been trained and roughly 290,000 temperature-controlled supply points, 240 walk-in coolers, 70 walk-in freezers, 45,000 ice-line refrigerators are ready for use.
The government has approved two vaccines: 1) AstraZeneca's Covishield, and 2) Covaxin, produced by Indian pharmaceutical firm Bharat Biotech.
11. Expert warns UK's coronavirus vaccine schedule puts "whole world at risk"
Leading virologist, Professor Nigel McMillan, **** says a UK decision to extend the coronavirus vaccine dosing schedule (password protected site) could lead to partial immunity, jeopardising global vaccination efforts. The decision, taken late last year, was designed to prioritise giving first doses to more Britons as quickly as possible.
Although SARS-CoV-2 mutated at a steady rate, unlike HIV or influenza, extending the time between doses still led to an increased chance of a vaccine-resistant strain.
"If they allow this to happen, they are increasing the chances of the virus being exposed to partially vaccinated people and therefore escaping (vaccine-induced immunity)," Professor McMillan said. "I can only assume the UK are doing this because they are in such a desperate situation that they are taking the decision, but it's a risk they are taking for all of us.
"No other countries have indicated they were preparing to follow the UK's lead," he said.
**** Professor Nigel McMillan, Program Director at Griffith University's Menzies Health Institute.
Read also:
Are We Creating Immune Resistant Variants Of SARS-CoV-2? Forbes 11 January 2020
Author: William Haseltine: Former Professor at Harvard Medical School
12. Reports of new US COVID-19 variant are inaccurate, says CDC
"Reports of a highly contagious new coronavirus variant in the United States, published on Friday by multiple news outlets, are based on speculative statements made by Dr. Deborah Birx and are inaccurate, according to several government officials," reports the New York Times.
"The erroneous report originated at a recent meeting where Dr. Birx, a member of the White House coronavirus task force, presented graphs of the escalating cases in the country. She suggested to other members of the task force that a new, more transmissible variant originating in the United States might explain the surge, as another variant did in Britain.
"Her hypothesis made it into a weekly report sent to state governors."
---
Previous Updates