Locations with cases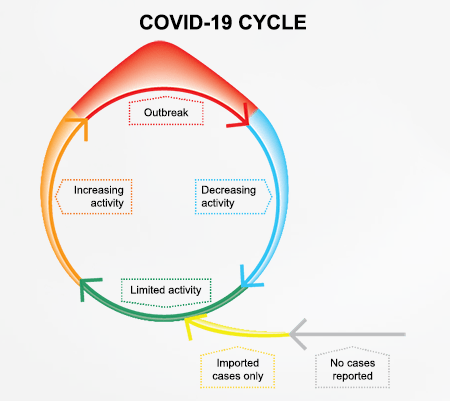 • Imported cases only
• Limited activity: Countries in this category may have one or more of:
no reported cases or;

minimal number of new cases per day.
• Increasing activity:
significant rise in cases.

sustained increasing trend.
• Outbreak:
escalating cases.
highest daily reported cases.
•
Decreasing activity
:
sustained decreasing trend.
The information presented here is maintained by International SOS's global team of medical and public health professionals, compiling data from publicly available sources which include: the World Health Organization, European Centre for Disease Prevention and Control, US Centers for Disease Control and Prevention, individual Ministries of Health, and robust media sources. See also International SOS Medical Information & Analysis
On 11 March 2020, the World Health Organization declared COVID-19 to be a pandemic.
International SOS has aligned the colour scheme for the status of countries to use those in the Impact Assessment tool.
Members should consult the alerts on the Members Website, Premium Services Members can also access the location pages through the links by clicking on countries in the map above.
If a location does not appear in the list below, it may be considered a "dependent territory" and its COVID-19 activity has been aggregated with a sovereign nation such as Australia, China, Denmark, Finland, France, Netherlands, New Zealand, Norway, the United Kingdom or the United States.